DIScribe
ASTi's DIScribe product is a combination of an industrial-strength network packet logger, and full-featured software client for filtering, inspecting, and playing back recorded DIS traffic.
DIScribe allows you to record DIS packets on any or all of the network ports on up to two (2) ethernet connections, all day, every day. It supports DIS versions 4, 5, 6, and 7.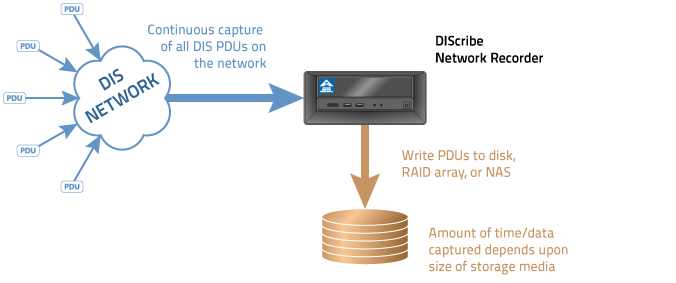 The DIScribe network recorder uses high-performance, dedicated hardware to continually capture all DIS PDUs on the simulation network, and incrementally save them to a local hard disk, RAID array, or network-attached storage (NAS) device. The amount of data that can be captured is determined by the amount of network traffic over time, and the capacity of the target storage media.
The flexible DIScribe server provides observation of network traffic in real-time, and as part of after-action review (AAR).
DIScribe saves all recorded DIS traffic in an open-source file format (pcap) for processing and analysis by ASTi's own DIScribe client for Windows or Mac OS X. There is no "vendor lock-in"; any compatible 3rd-party networking utility can be used to analyze DIScribe's recorded data.

Up to 25 software clients can connect to the recorder simultaneously. Use the client to analyze your exercise using tables, graphs and maps. Filter and examine all PDU types (including entity, receiver, transmitter, sensor, frequency, fire, detonation, etc.), and even inspect individual packets.

Upcoming Features
Specify custom PDUs to analyze
Export tables, graphs and maps to PDF
Replay recorded DIS traffic directly to the network
Export audio to standard file format for storage/archival on removable media