In December, ASTi shipped a new Voisus system to U.S. Army Redstone Arsenal, AL to support networked communications for multiple trainees using their Unmanned Aircraft System (UAS) trainer.
Each trainee can access up to 8 audio channels featuring simulated radios or network intercoms using tablet computers inside custom Tactical Operations Center InterCommunication System (TOCNET) desktop Crew Access Unit (CAU) enclosures. The tablet computers' Windows 7 operating systems host ASTi's Voisus client software as the communications backbone. The powerful Voisus client provides functionality for an ASTi-developed software interface which replicates the appearance and operation of the CAU.
The CAU interface is only one of many ASTi-designed radio skins that lay on top of the core communications Voisus client software. Additional radio skins include: AN/PRC-117F, AN/PRC-117G, AN/PRC-150(C), AN/PRC-119 SINCGARS ASIP, AN/PRC-148 and AN/PRC-152 handheld radios.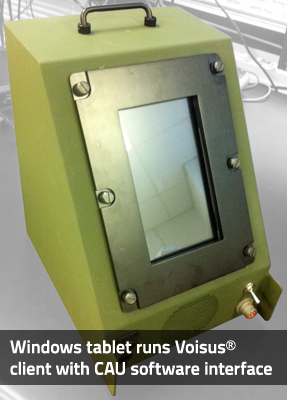 ---
All trademarks are property of their respective owners.