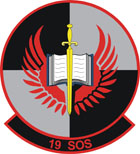 Advanced Simulation Technology inc. (ASTi) announced the deployment of a Voisus radio-over-IP communications system to the U.S. Air Force's 19th Special Operations Squadron (SOS) at Hurlburt Field, FL. Installation and validation testing were accomplished in less than two days, after which the 19th SOS determined that the Voisus system was fully operational and ready to support the Air Force Special Operations Command's (AFSOC) training program.  
The Voisus radio-over-IP communications system installed at Hurlburt Field realizes these capabilities for AFSOC:
Seamless voice communications interoperation among live aircraft, ground radio assets and simulator-based training facilities linked via the Joint Training Enterprise Network (JTEN).
Conservation of live radio usage: training center operators share common access to live radio assets through network connections. Scores of local and remotely located military trainees and exercise staff access tactical radio traffic from Hurlburt Field using Voisus Clients' networked voice applications running on their computers and tablets.
Remote Radio Control: system administrators use a web interface to reach across the network and adjust downrange radio settings and monitor internal health and status reports. The Air Force uses this powerful remote management capability to operate and monitor radios and quickly diagnose communications issues using minimal, centrally-located staff.
Since 1996, the 19th SOS has relied on ASTi to provide the voice communications infrastructure and simulated radio and environmental sound systems for their aviation training programs. ASTi systems are currently integrated into these flight simulators and facilities at Hurlburt Field:
AC-130U Weapons System Trainer (WST) and Battle Management Center (BMC)
AC-130U Part Task Trainer (PTT)
MC-130H Weapons System Trainer (WST)
CV-22 Operational Flight Trainer (OFT)
MC-130 Fuselage Trainer (FuT)
Mission Rehearsal Operations Center (MROC)
ASTi is a predominant provider of modular, product-based solutions to the modeling and simulation marketplace. ASTi's solution space ranges from virtual communications and environmental sound subsystems embedded in the world's most sophisticated military flight simulators to elegant software plug-ins that extend the training capabilities of serious games. Over the past 34 years, ASTi has fielded over 11,568 systems at 800 installation sites in the U.S. and 49 countries abroad.
For more information, please visit ASTi's Voisus website.
To initiate a free evaluation of Voisus, visit HearVoisus.com.
Read more about the storied 19th Special Operations Squadron here.