Advanced Simulation Technology inc. (ASTi) and Airliner1 have announced the release of an affordable part-task trainer that offers a gate-to-gate Flight Management Computer (FMC) training experience without the need to use a costly full-flight simulator. Airliner1's highly realistic flight training software and cost-effective hardware combine perfectly with ASTi's Simulated Environment for Realistic ATC (SERA) to create a dynamic airspace with interactive Air Traffic Controllers and aircraft on the ground and in the air.
Unlike Computer Based Training (CBT) or touch screen devices, students using the Airliner1 FMC trainer will get immediate exposure to the MCP, EFIS, and CDU hardware as well as full-sized replica switches and selectors. And with the addition of SERA, it eliminates the need for an instructor to role-play ATC calls by providing accurate, real-world communications from pushback to landing, teaching and reinforcing FAA/ICAO RT phraseology with a variety of unique, realistic, "human" voices that include regionally appropriate accents.
The complete aircraft simulation requires just one PC and boasts simple, user-friendly start-up, configuration, and shutdown procedures that don't require traditional on-site engineer support or technicians. Airliner1 and ASTi also pride themselves on their rapid turn-around of resolutions, with support available both on-site and remotely via the cloud.
Because their FMC trainer does not require an instructor to role-play, an engineering support staff, or the use of expensive and limited Level D simulator time slots, it is extremely affordable. Acquisition options include cost-effective lease, lease-to-purchase, and purchase.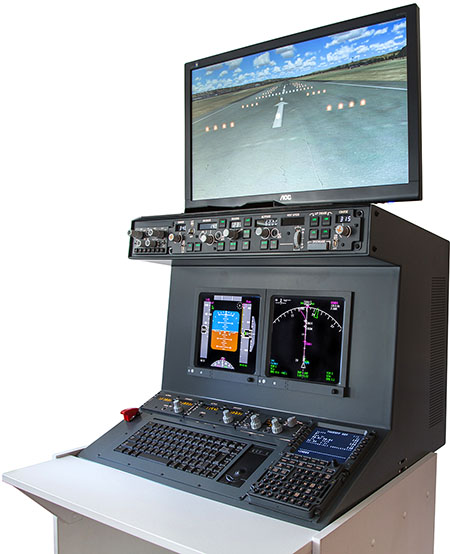 About ASTi
Since 1989, ASTi has been at the forefront of distributed voice innovation, delivering products that unify voice communications across operational and training environments for the military, civil agency, and commercial marketplaces. Over the past 32 years, ASTi has fielded over 11,293 systems at more than 800 installation sites in the U.S. and 49 other countries. To learn more about ASTi, please visit www.asti-usa.com.
About Airliner1
Airliner1 is a company dedicated to bringing unique, affordable training solutions to the airline industry. Their team is born from the Flight1 group of companies, including Flight1 Aviation Technologies. For the past 6 years, Flight1 Tech has been providing pilots, flight schools, universities, government, and military customers with cutting edge simulations and tools.