FAA Level D Commercial Simulation Package
The package presented here includes hardware, software, aircraft-specific model1, customer training and support. Also available is an optional full audio hardware peripherals package including amplifiers and speakers. This ASTi system provides a truly complete solution at a price-to-performance mark offering exceptional value.
What's in the box?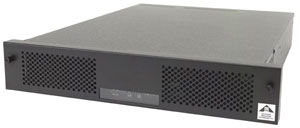 Our Level D sound and communications solution includes the following:
Telestra server 2U rackmount, dual core processor, running the ASTi OS (Linux-based) audio processor
Studio development workstation running Telestra software
ACENet (Ethernet-based) power amplification for up to 16 independent loudspeaker channels
ACENet audio distribution modules for up to 20 independent communications audio channels (All channels are bi-directional, giving 20 inputs and 20 outputs.)
Baseline software model to reflect aircraft type, per customer supplied data package (A data package must be provided--even for existing ASTi models--for licensing considerations.)
Host interface ICD customized to aircraft type
ASTi standard QTG documentation package customized to aircraft type and supplied data
Training package including 5 days working at ASTi
40 hours of technical support
Optional sound hardware package including communications headsets, handmics, comm loudspeakers, and environmental cue loudspeakers
Optional internal Level D certification kit including measurement class microphone, spectral analysis Telestra software package, and eQTG plot generation (highly recommended)
Alternate option of non-integrated Level D certification kit including B&K Sound Analyzer, laptop computer, and required software
Also available are sound-only and communications-only packages. Follow-on devices (same data package, same system configuration) are priced "system only".
Although presented as a "bundled package", we are flexible; variations are priced per our standard price list. We can also offer full service engineering support for the analysis of Level D data and site support through FAA acceptance testing.
Core Product Capabilities and Features
The heart of the system is the Telestra server processor providing audio modeling at sample rates of 48kHz at 16-bit resolution. Using the Telestra object-oriented graphic modeling environment, coupled with the ability to build custom components to represent common modeling elements, the system provides a great deal of flexibility to both generate and tune the model to meet Level D requirements.

---
Key features of the architecture include:
The Telestra server runs all modeling and audio processing.
ACENet audio distribution architecture utilizing an Ethernet backbone, supports channel counts in the hundreds, if required.
Power amplifiers connect directly to ACENet eliminating analog audio cabling.
ACUs provide direct support for headsets, handmics, and oxygen masks, including software controlled gain and mic-power.
Every Telestra channel includes audio in and out, in addition to three channels of discrete input I/O for direct sensing of press-to-talk (PTT) switches, ensuring optimization of latency for crucial control inputs.
The modeling features include:
Basic and composite audio synthesis (from simple wave shapes to complex engine and composite objects)
Soundfile replay including seamless complex loop capability (used for rotating machinery sounds that have run-up, running, and rundown components)
Full digital signal mixing and dynamic filtering
Simple host interface generation and internal type casting throughout the modeling environment
Inline function generation

Other supporting product features include remote system monitoring and control via the Telestra web interface, allowing any PC connected to the Telestra server's network to integrate many of the system pages using a standard web browser. Development Workstation for model development and tuning, and may be remotely accessed using an X Window System client from a laptop to allow on-board realtime tuning to be carried out with minimal on-board hardware.

1 Assumes standard-format, customer-supplied data package and audio recordings made available to ASTi.