Discover. Tune. Talk.
ASTi's Voisus Thin Client product now incorporates Auto Radio Tuning, an innovation that enables operators to instantaneously establish voice communications with any simulated radio on the network, simply by clicking in a realtime list of "who's online".
Auto Radio Tuning replaces the traditional manual tuning method, where operators were required to have prior, detailed knowledge of radio settings (frequency, AM or FM, crypto and frequency hop fills) in order to tune their radios. It also eliminates the work needed to preconfigure radios by filling them with pre-planned, coordinated settings prior to use. Users can now use the Auto Radio Tuning feature on-the-fly to discover other networked radios and tune in with one click. This is a critical enhancement for operators like training event directors or system administrators who need to quickly establish impromptu voice comms.
Operation is straightforward: Operators simply use Voisus Thin Client software to access a list of active radios on the network, and then click on the radio with which they wish to communicate. Auto Radio Tuning uses the selected radio's settings to automatically configure the operator's local radio. In a fraction of a second, the operator is in-tune with the remote radio, and ready to communicate.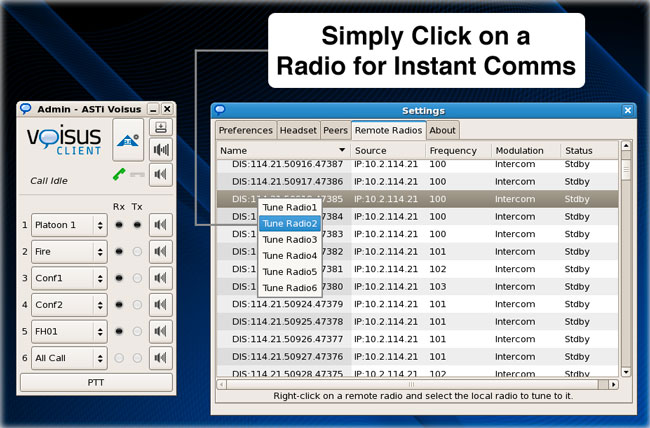 Voisus Thin Client is a modular, ready-to-deploy networked voice communication product which incorporates simulated radio, intercom and direct and conference calling features that fill critical communications requirements for military, civil and commercial users. Contact ASTi for more information.