Advanced Simulation Technology inc. (ASTi) received an order for twelve (12) Voisus systems to be delivered to the U.S. Army's Joint Base Systems Integration Laboratory (JSIL) at Redstone Arsenal, AL. The order follows a successful proof-of-concept demonstration in which ASTi developed new hardware radio panels for the Army's Universal Mission Simulator (UMS). The panels will be installed as part of Universal Ground Control Station (UGCS) training for operators of the Shadow, Grey Eagle and Hunter unmanned aerial systems.
For this program, ASTi developed a realistic, simulated version of the CSC/JPTT communication panel widely used by unmanned aerial system (UAS) operators. The high-fidelity replica features all the knobs and switches of the real panel, and was found by an experienced UAS pilot to accurately recreate the behavior of the real-world hardware.
The communications model running on ASTi's latest Voisus platform monitors panel switch states, and provides access to four (4) simulated, shared radios to the pilot and sensor/payload operators, as well as an instructor intercom. The instructor communicates with trainees using the Voisus client software installed on a Windows workstation; client software for Linux systems is also available. The system also provides audio in/out connections for use with 3rd-party audio and recording equipment.
The UMS is proven to interoperate seamlessly with all current AVCATT simulators, which feature ASTi's Telestra audio and communication system, and will communicate with any DIS-compliant simulator on the network.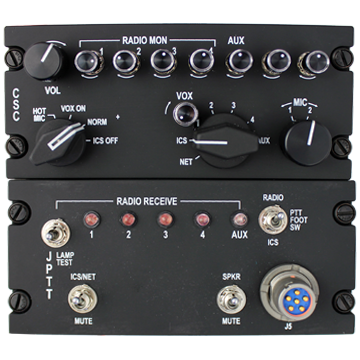 About ASTi
ASTi is a predominant provider of simulation-based products that enhance the effectiveness of military and civilian training, experimentation and test-evaluation programs, by blending live and synthetic environments. ASTi's application space ranges from simulated physics-based radio communications and environmental sound subsystems embedded in sophisticated military flight simulators to software plug-ins that enhance the capabilities of games for training. Over the past 32 years, ASTi has fielded over 11,293 systems at more than 800 installation sites in the U.S. and 49 other countries. To learn more about ASTi, please visit www.asti-usa.com.