ASTi has partnered with QuantaDyn on two Air National Guard programs: the Joint Terminal Control Training and Rehearsal System (JTC-TRS) and Air National Guard Advanced Joint Terminal Attack Controller Training System (AAJTS). The JTC-TRS is a communication and aural cue product designed for Joint Terminal Attack Controller (JTAC), Close-Air-Support, Call-for-Fire and equivalent training systems. Similarly, the AAJTS is a high-fidelity simulator supporting JTAC and Combat Controller squadron-level continuation, qualification and mission rehearsal training. Both programs use ASTi's industry-proven, commercial off-the-shelf equipment to exceed training requirements. Additional ASTi software creates a cost-effective, plug-and-play solution that increases reliability and minimizes risk.
ASTi's Voisus communication product enabled instructors, pilots and students to talk with each other across multiple simulators. Students interacted using Voisus clients installed on touch screen tablets, which display advanced radio skins modeling the actual radios. ASTi added custom interface options to the PRC-148, PRC-152 and PRC-117G skins, which show the radios' virtual GPS location and mission time. Additional features included push-to-locate, plaintext and ciphertext capabilities. These updates enhanced the program's training and operational requirements, providing the real radios' look and functionality at a fraction of the cost.
QuantaDyn also received custom audio and terrain effects with Earshot, ASTi's sound reconstruction product. Earshot monitors the DIS network and produces a 360-degree soundscape of the virtual battle space. It provides realistic timing by calculating the listener's distance from the sound and delaying the audio based on their position. Using terrain data, Earshot applies audio effects based on the listener's location in the surrounding landscape.
To enable rapid product development, ASTi hand-delivered software updates and resolved issues at QuantaDyn's facility. ASTi's in-house production team assembled custom cables for several military headsets and chest-mounted, dual press-to-talk devices. QuantaDyn also subscribed to ASTi's Information Assurance maintenance program to receive periodic, software-hardening packages.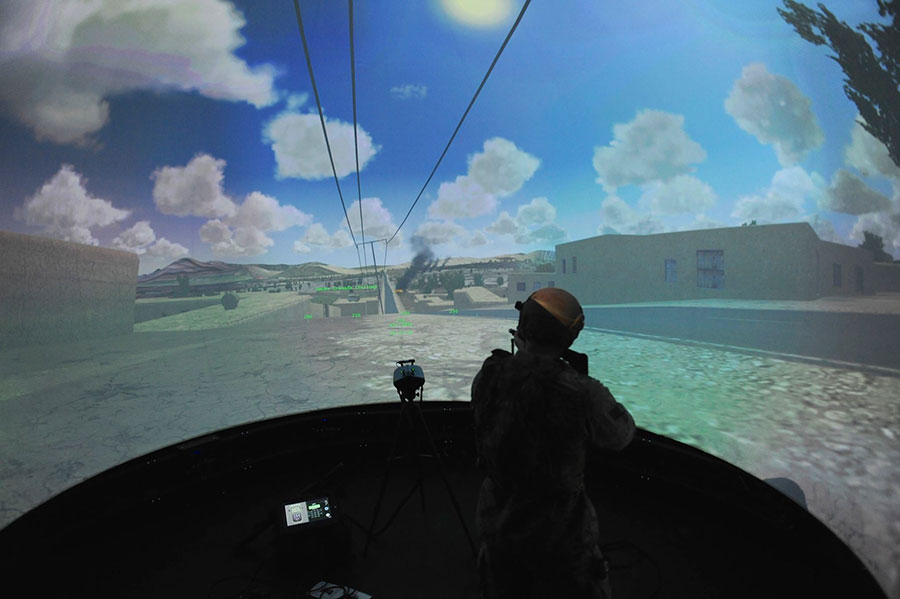 About ASTi
ASTi has 34 years of experience in the simulation industry, offering premium performance at a reasonable cost. ASTi's products use sophisticated algorithms and modeling techniques to tightly integrate the simulation's visual, entity and audio components. Audio and communications are bundled into one server, and customers can configure settings from anywhere on the network using a web browser. Since 1989, ASTi has fielded over 11,456 systems at more than 800 installation sites in the U.S. and 49 other countries.
To learn more about Voisus products, contact:
Advanced Simulation Technology inc.
500A Huntmar Park Drive
Herndon, VA 20170
USA
Phone: +1 (703) 471-2104
www.asti-usa.com