FAA Level D Integrated Audio Example
Civil Flight Simulators
ASTi offers a sound and communications solution package for applications requiring performance up to FAA, EASA and equivalent Level D/XZFT standards.
The heart of the system is based on the Telestra product suite, with its Target audio processor supporting the Ethernet-based ACENet audio distribution architecture (audio sampled at 48kHz, 16-bit resolution). ACE Studio provides the software modeling environment, providing the flexibility to generate and tune the model to meet Level D requirements.
For more information, see our Commercial Simulation Package.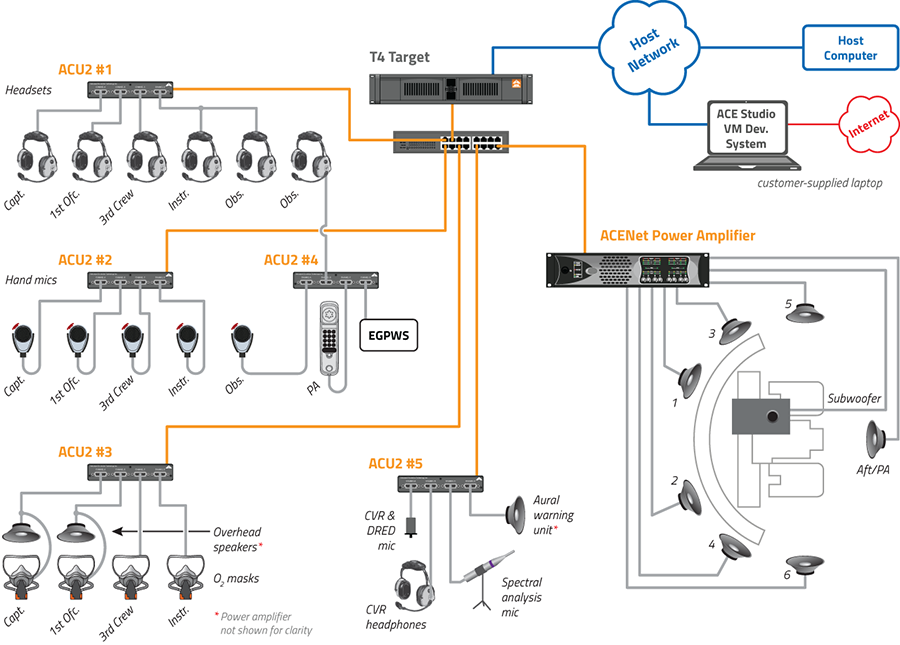 Features and Capabilities
Basic and composite audio synthesis, from simple wave shapes to complex and composite objects.
Optimized "Level D Engine" object
State-of-the-art "Sound Field Reconstruction" recreates the 3D audio environment of the cockpit
Soundfile replay, including seamless complex loop capability (used for rotating machinery sounds)
Digital signal mixing and dynamic filtering including powerful 5-band parametric equalizer
Simple host interface generation and internal type casting in the model environment
Use the host to command a self-test of the sound system installation for system confidence testing with the "Auto-DRED" object