Comms and Aural Cue System
P-8A Poseidon Trainer
Customer
U.S. Navy
Application
ASTi provided a comms and aural cueing solution for the U.S. Navy's long-range, anti-submarine and anti-surface warfare, intelligence surveillance flight simulator. This multi-mission platform includes an open architecture mission system with Next Generation sensing and communication assets. The P-8A Poseidon expands Boeing's 737-800 and 737-900 platforms and incorporates the technical advances and military specifications essential to today's security standards. Patrol and reconnaissance forces receive complete, realistic aircrew training at a fraction of the cost.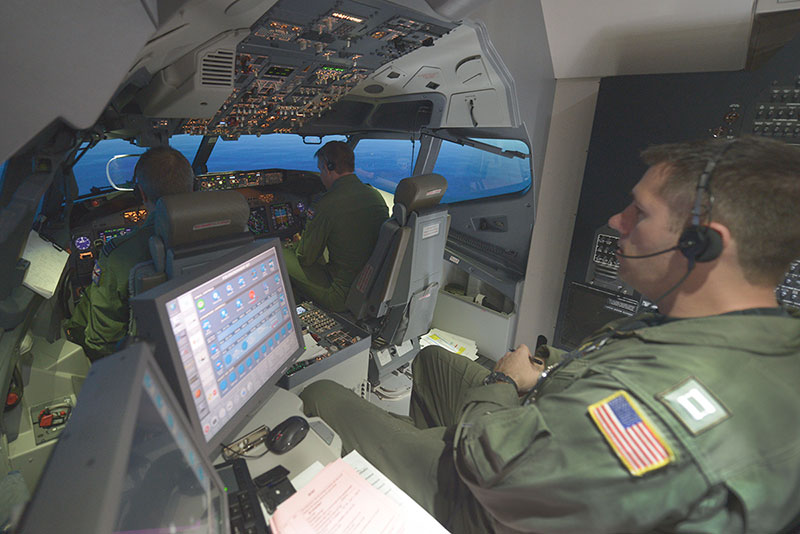 Challenges
&
Solutions
The challenge requirements are listed in blue; ASTi's applicable components are in black: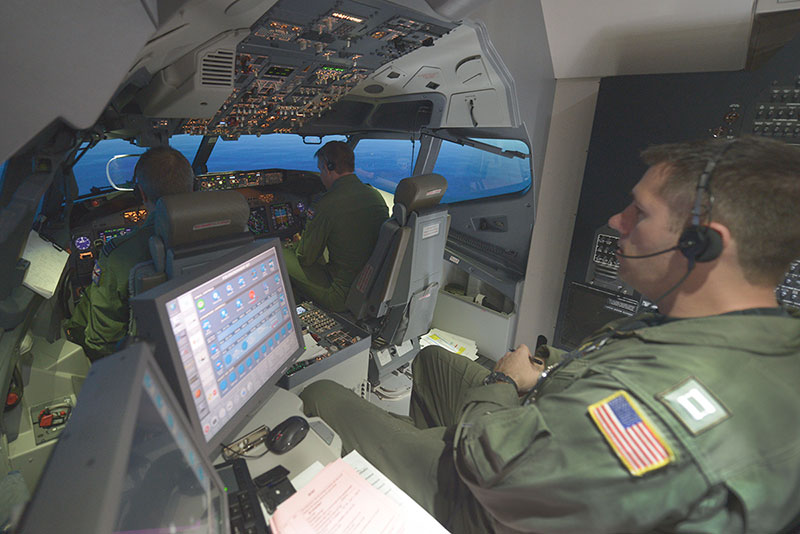 Support for Multiple Trainer Modes
Communications system that operates as two separate trainers or one coupled trainer.
The P-8A Poseidon simulator contains two trainers that can operate independently or coupled as a Weapon Systems Trainer. The Operational Flight Trainer (OFT) simulates the aircraft's flight deck, and the Weapons Tactics Trainer (WTT) simulates the aircraft's rear, where surveillance workstations are located.
To accommodate multiple trainer modes, ASTi developed a complex software model accommodating 19 operators and over 200 simulated radios. The OFT contains two Telestra servers that provide radio communications and environmental cues, while the WTT contains three servers. Each trainer is assigned its own set of radios. During coupled mode, the five servers share radio clients over the network, operating as a single entity. As a result, OFT and WTT operators can communicate with each other as they would in a real P-8A aircraft.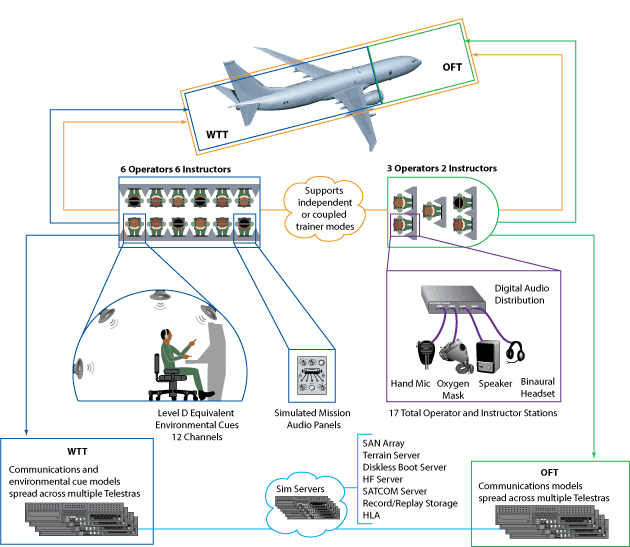 High Fidelity Radio Modeling
Provide a custom radio model with a range of realistic effects.
ASTi developed a high-fidelity radio model with the following capabilities:
Line-of-sight (LOS) propagation effects
Irregular terrain effects
High frequency (HF) environmental factors
Satellite communication (SATCOM)
ASTi used its built-in radio modeling capabilities to simulate the full suite of mission and flight deck radio communication assets. ASTi also developed a simulated custom ARC-210 radio, which includes a frequency-scanning state machine. This machine accurately reproduces real equipment behavior, including scan frequency order, rate, dwell time, and press-to-talk (PTT) logic.
Complex Instructor and Student Role-Player Capabilities
Provide an expansive Instructor Operator Station (IOS) allowing instructors to role-play with students during an exercise.
ASTi developed a powerful IOS supporting a wide range of capabilities:
Extensive role-playing assets: the IOS draws from a large pool of communication assets, including LOS, SATCOM, and HF radios.
Voice disguise: role-players can apply sound effects to transmitted audio in real time.
Automated text-to-speech (TTS) transmission: client radios instantly relay audio using integrated TTS.
Wide selection of sound files: the IOS provides scenario-appropriate radio chatter from a library of sound files. Role-player assets on specific frequencies transmit this audio on specific frequencies in specific locations.
Background noises: instructor radio transmissions may include background environmental sounds, increasing realism.
Direct communication with students: instructors can override the client operator's comm panel, providing feedback during the exercise.
Model Verification and Acceptance Testing
Test and verify large, complex communications models through multiple release cycles.
To streamline the model verification and acceptance testing, ASTi developed the Test Bench Tool (TBT) for the P-8A program. TBT reduces testing time by almost 75 percent. The TBT facilitates accurate, reliable, and repeatable model acceptance testing. This application stores and recalls state data that drives the models through an extensive matrix of test conditions. It then stores and processes test results, creating a summarized final report document.
Support for Diskless Operation
Provide diskless server operation to meet rigorous DoD security requirements.
ASTi configured Telestra servers in the P-8 simulation to run in a diskless mode without a hard drive. This process requires booting over the network from a central server. The simulation includes extensive record and replay functions to support MAP simulation and after-action review requirements. As a result, Telestra servers record and replay audio over the network using an iSCSI-based storage area network array. To support the MAP simulation, the servers can record over 20 streams of audio and replay selected streams.
Custom Modeling for Mission Crew Workstation
Provide a custom model for the Mission Crew Workstation's (MCW's) communication panel.
ASTi developed a custom communication panel to simulate the following Mission Audio Panel (MAP) capabilities:
Binaural audio asset distribution
Control and mixing of up to 36 communication assets (i.e., radios, intercom stations, navigation aids, HF sonar audio)
Simulation of MAP record/replay capabilities
Simulated security interlock functions and asset-by-asset security level control
The MCW uses a common junction box interface with control and logic for a binaural headset, oxygen mask, external speaker, and PTT button.
To simulate aircraft panels, ASTi created a custom model for flight deck assets. This model includes the Flight Deck Audio Control Panel (FDACP) and Flight Deck Mission Control Panel (FDMCP) for three operators. A derivative of the original 737 panel, the FDACP manages 16 independent communication assets. The panel supports stereo audio and can simulate PTT, audio routing, asset selection, and audio mixing capabilities. The FDMCP allows instructors to select and manage mission assets for the flight deck crew and simulates security interlock features similar to MAP functions. Audio from each crew member is routed to a binaural headset and overhead speaker with headset and handset microphone inputs, as shown below: