Advanced Simulation Technology inc. (ASTi) announced that the U.S. Air Force 505th Training Squadron at Nellis AFB, NV, has installed a Voisus radio-over-IP communications (RoIP) system at the Combined Air and Space Ops Center-Nellis (CAOC-N). The Voisus system connects combat radios operating at Nellis's expansive training range to U.S. Department of Defense networks to distribute air and ground voice communications to 100 trainees, instructors and exercise staff at the 505th, and a variety of joint- and coalition-force simulators around the world.
The U.S. Air Force selected ASTi products to modernize its communications infrastructure because ASTi products meet the latest performance requirements, provide future expansion, and alleviate life-cycle sustainment issues that previously hampered training capabilities.
The Voisus system replaced three separate commercial and government off-the-shelf (GOTS) systems at the CAOC-N, and provides a host of benefits, including:
RoIP bridging, live-virtual-constructive simulation (LVC) integration, voice capture & replay for after-action review (AAR), and training scenario generation are all configured and managed from anywhere on the network using a web browser
Reduced time and manpower needed to set up and conduct exercises; minimized equipment training requirements
Reduced size, weight, and power, yet delivers advanced capabilities; the new ASTi system consumes five times less rack space than the legacy equipment it replaces
The Voisus system at Nellis AFB is covered by ASTi's Information Assurance (IA) software maintenance program which ensures ongoing compliance with the Defense Department's stringent security certification and accreditation processes. The program is a subscription-based service that delivers the latest ASTi software releases, OS security patches and lock-down scripts.
Finally, the Voisus system provides the Air Force with a clear, no-risk path to additional capabilities, including: future system expansion limited only by network constraints; public telephone integration; simulated, voice-enabled, intelligent agents that interactively listen and respond to speech; virtualized servers, and support for cloud-based architectures.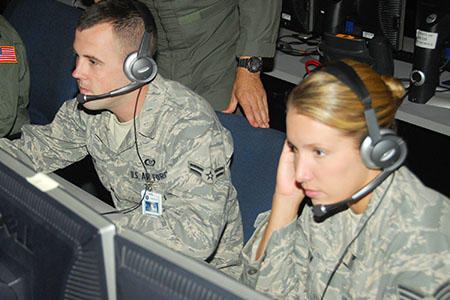 About ASTi
Since 1989, ASTi has been at the forefront of simulation innovation, delivering products that provide highly immersive synthetic sound effects, virtual radio communications, live radio-over-IP bridging, networked voice integration, and interactive voice-enabled training solutions to enhance training and experimentation effectiveness across live, virtual, constructive, and gaming domains. Over the past 32 years, ASTi has fielded over 11,293 systems at more than 800 installation sites in the U.S. and 49 other countries. To learn more about ASTi, please visit www.asti-usa.com.
About the 505th TS and CAOC-N
The 505th TS conducts joint, coalition and service-focused events using live, virtual, and constructive air, space, and cyber capabilities to support training events, operational rehearsals, command-and-control tests and evaluations, experiments, and tactics development. The squadron supports major exercises such as Red Flag, Green Flag, Virtual Flag, and USMC Large Scale Exercises (LSEs).