Advanced Simulation Technology inc. (ASTi) announced that the U.S. Marine Corps has fielded five Voisus radio-over-IP communications systems at the Marine Corps Air Ground Combat Center (MCAGCC) at Twentynine Palms, CA and at the 1st Marine Expeditionary Force (I MEF) at Camp Pendleton, CA. System installation, interoperability testing, and new equipment training was accomplished in two days, after which the I MEF determined that the Voisus system was ready to support their training requirements.
The Voisus communications systems installed at these locations boast the following capabilities:
Seamless linking of Marine Corps air and ground radio communications with simulator-based training facilities for blended live-synthetic training
Conservation of live radio usage; exercise staff and military trainees use Voisus Client apps on their computers and tablets for common access to live radio assets through network connections
Clients that provide trainees and exercise staff with group intercoms, private point-to-point calling, conferencing, and text chat
Web-enabled scenario generation and centralized system management from any network point, using ordinary web browsers
The Voisus systems' inaugural use was during Large Scale Exercise 2014 (LSE14), a Marine Expeditionary Brigade combat exercise based at Twentynine Palms. The exercise involved 3,700 U.S. Marines and Canadian soldiers executing long-range raids, casualty evacuations, live-fire events, defensive operations, and close-air support.
ASTi systems provided critical services and linked live and virtual voice comms between geographically distant sites, including:
Twentynine Palms: Battle Sim Center, Combined Arms Command and Control Training Upgrade System (CACCTUS), MAGTF Tactical Warfare Simulation (MTWS)
MCAS Miramar: MV-22 and CH-53 Flight Simulators
MCAS Yuma: AV-8B Flight Simulator
Camp Pendleton: H-1 Flight Simulators
Camp Wilson: Direct Air Support Center, Tactical Air Operations Center, Combat Convoy Simulators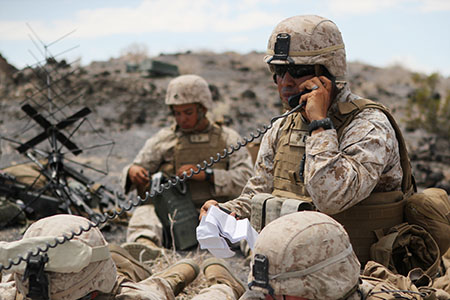 About ASTi
Since 1989, ASTi has been at the forefront of simulation innovation, delivering products that provide highly immersive synthetic sound effects, virtual radio communications, live radio-over-IP bridging, networked voice integration, and interactive voice-enabled training solutions to enhance training and experimentation effectiveness across live, virtual, constructive, and gaming domains. Over the past 34 years, ASTi has fielded over 11,372 systems at more than 800 installation sites in the U.S. and 49 other countries.
ASTi has proudly supported Marine Corps training programs for over 20 years. Other fielded systems include:
Flight simulators: F/A-18C/D, CH-46E, CH-53E, VH-60N, KC-130J, AH-1W, UH-1N, AV-8B, MV-22
Universal Mission Simulators (UMS), unmanned aerial system (UAS) control station simulators
Improved Moving Target Simulator (IMTS)
To learn more about ASTi, please visit www.asti-usa.com.